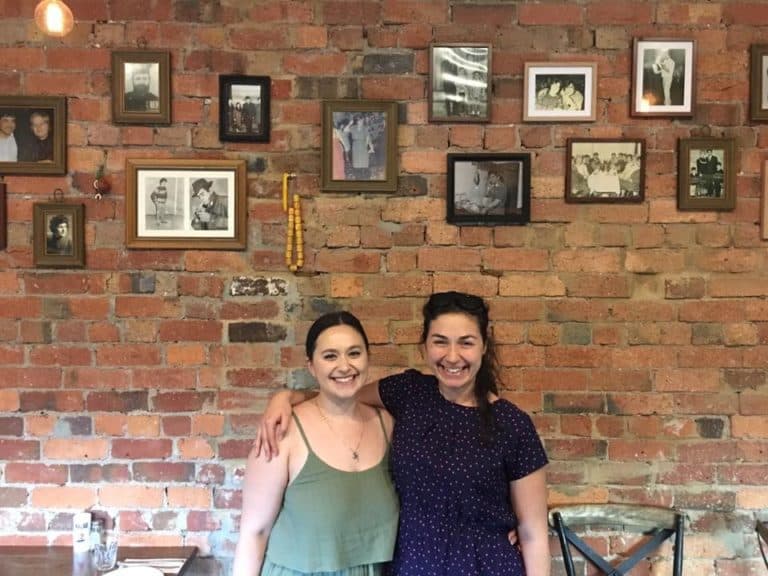 Just a few months ago, Yarraville locals were given a reminder of the inner western suburb's Hellenic past, with the opening of Eleni's Kitchen + Bar.
Located in Yarraville village, the tucked away eatery is a welcome escape from bustling Anderson Street. The rustic design pays homage to the heritage of the building with exposed brick, and makes for a cosy and welcoming space, where patrons are encouraged to make themselves right at home, with a menu designed to share and a wine list to work your way through.
But the long-anticipated eatery, which was 19 months in the works, opened by sisters Eleftheria and Anatoli Amanatidis together with their uncle Tony Amanatidis, is more than a restaurant; named after their beloved grandmother Eleni, more than anything, it is an opportunity to honour their Greek upbringing.
The venture started out as an innocent conversation between siblings in 2016, and has since developed into a vision that neither expected.
"We never thought it would become something to the extent of such a big restaurant!" says Eleftheria.
"But we definitely wanted to do something to carry on our yiayia's legacy, and we really wanted to show a part of our heritage and culture, and the food we grew up with."
Coupled with Eleftheria and Tony's experience in the hospitality industry, the family members, and now business partners, teamed up with head chef Christos Katopodis, formerly of Jim's Tavern, to bring their dream to fruition, using his culinary experience to bring yiayia Eleni's recipes to the masses.
"The whole idea of opening the restaurant was so that we can showcase yiayia's recipes, the flavours and the taste of the food. We sat down with Christo and told him what we wanted, the main things we wanted on the menu. And like every chef, he's got his own spin to it. Everything's very authentic; traditional flavours and spices and herbs. It's just like yiayia's food, but we couldn't put yiayia in the kitchen …" she laughs.
"For the customers that come in here, we're creating an individual experience for them, and they can taste it through the flavours and all of our yiayia's recipes."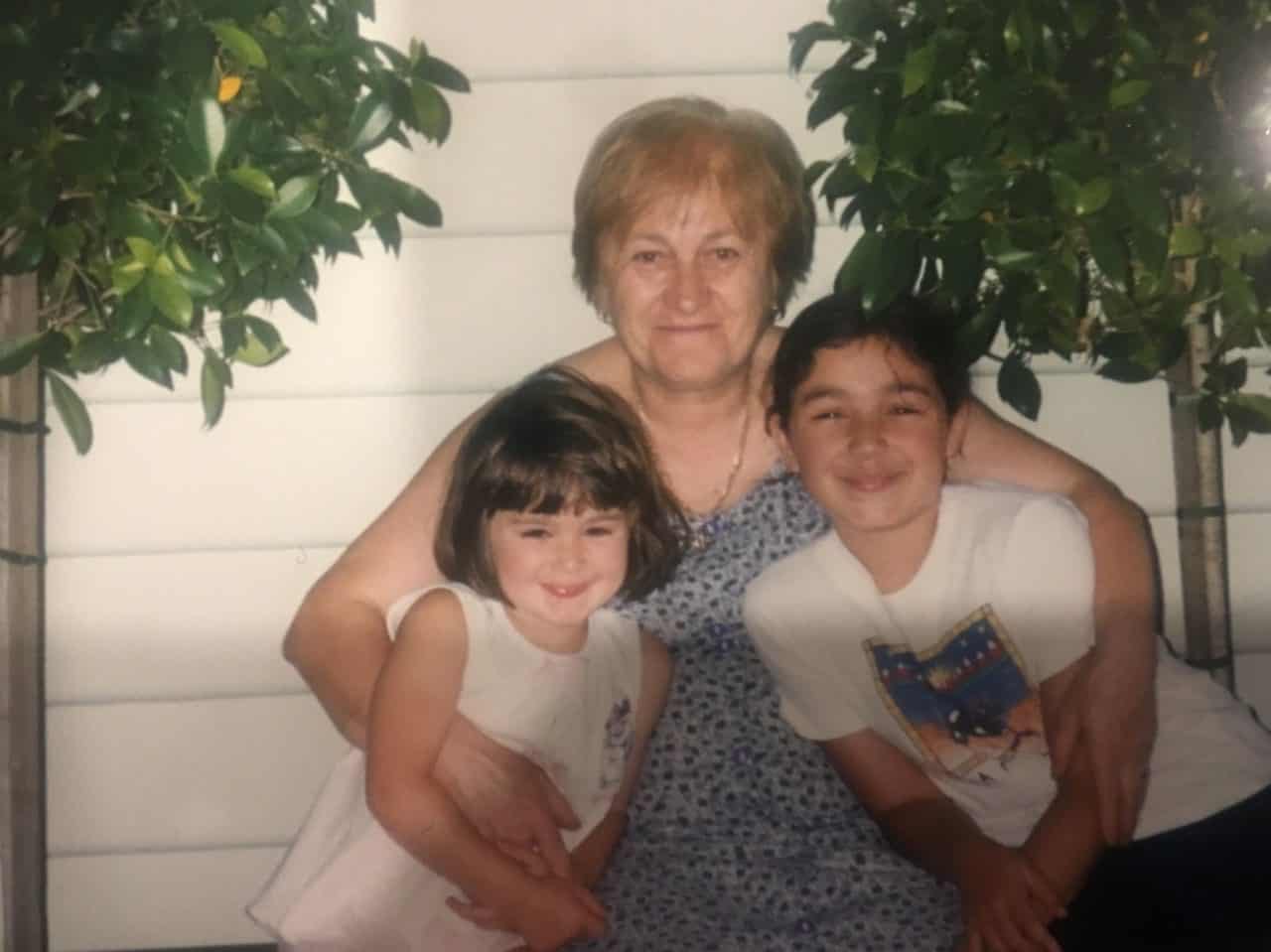 Open six days a week, Eleni's Kitchen + Bar runs a daily dinner menu that features a section with Eleni's Home Favourites. Traditional, hearty meals that yiayia Eleni used to cook, it features gemista, papoutsakia, moussaka, and cabbage rolls. In addition to an array of mezethes, salads and sweets to choose from, they have also built up a reputation for their succulent meat and fresh seafood – think prawns and calamari – all cooked over charcoal.
With increased demand, they have since extended their opening hours running a lunch menu from Friday to Sunday offering both dine-in and takeaway options, and breakfast on Sundays where you can enjoy eggs cooked Greek-style with loukaniko and gigantes, or spoil yourself with fig pancakes served with vanilla ice-cream, almonds and honey syrup.
Meanwhile to add to the atmosphere, three-piece band Zourouna also performs live the last Thursday of every month.
For the sisters, opening Eleni's Kitchen + Bar has very much been a homecoming. Aside from having grown up in the area, their roots in Yarraville go deep, so much so that it was almost a right of passage that they open up a Greek eatery, their grandparents Dimitrios and Eleni having owned the first Greek restaurant in the area.
Of Pontian descent, after migrating to the north of Greece as part of the 1922 population exchange, the Amanatidis family moved to Yarraville, where the girls' great-grandfather Antonios Amanatidis became the founding priest of the St Nicholas Greek Orthodox parish.
Not dissimilar to a little Greek village, the Amanatidis family well and truly set up shop in the area, in more ways than one.
Aside from the first Greek restaurant located across from the Sun Theatre, across the road one street over, four shop fronts in a row were run by the Amanatidis family; a delicatessen, butcher shop, pizza restaurant, and to top it off, a kafeneio.
"A lot of customers come and they ask 'What brought you back to Yarraville?' and it shocks them how much history we have here," says Eleftheria, an audible smile forming on her lips.
"To be honest, it makes me very proud. Especially in Yarraville, there's such an extensive Greek history that so many people who came from Greece settled here."
But one question lingers: does Eleni's Kitchen + Bar have yiayia Eleni's seal of approval? Sure does.
"She was really happy for us, but I think more than anything, she was, and she still is, so shocked," says Eleftheria.
"Even now when she comes in, like Sundays after church, she's like 'I can't believe it. My name's everywhere; the logo, it all represents me.'"
Preserving her memory, and honouring their family history is something the Amanatidis sisters are committed to, especially their Pontian heritage.
Both dancers at Pontiaki Estia, the Pontian Association which their ancestors help found upon settling in Australia, to help mark Remembrance Day for the Pontian genocide last month and their yiayia Eleni's name day, they had the dance group perform in front of the restaurant.
"The Sunday before her yiorti, we had Pontiaki Estia dance that weekend. We performed here in front of the shop, we closed the street as well, and she was like 'Oh my God! You've done this for me? Who am I? I'm just this yiayia'. And we're like 'Yiayia, you raised us. You deserve this and so much more'."
Ah the love; there's nothing like that grandparent-grandchild bond. If even just a fraction of that passion gets passed through at Eleni's Kitchen + Bar, you can sign me up.
Thanks to Neos Kosmos for this story.